Delhi government announced increase in aid for the welfare of registered construction workers in the state under various schemes provided by it.
Delhi Labour Minister Gopal Rai said that for the marriage of daughters of construction workers, the financial help has been increased from Rs. 10,000 to Rs. 51,000
"Maternity benefits amount increased from Rs. 10,000 to Rs 30,000.
3 lakh for registered construction workers," the minister announced while addressing a function of Nirman Shramik Sammelan organised by Labour Department at Chhatrasal Stadium in New Delhi.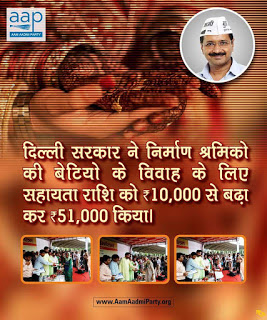 So venueindelhi.com decided to help those workers who comes in this scheme, to
find out the suitable venue
for their marriages and help them to organise their Marriage Functions with Free Wedding Planning Consultancy.